MEDEFEND is a Medical Indemnity Scheme which covers individual medical practitioners in Malaysia against actual or alleged claims of medical negligence. The cover is provided on a claims-made basis.
MEDEFEND is endorsed by the Malaysian Medical Association in 2017. On 20 Oct 2020, MEDEFEND Takaful was launched to meet the demands for a shariah compliant cover. For more details, please click here.
MEDEFEND is managed and developed by Marsh Insurance Brokers (Malaysia) Sdn Bhd (Marsh Specialty), a leading broker for Healthcare professionals in Asia for more than two decades. Marsh constantly appraised the changing medico-legal trends around the region to ensure policy coverage is tailored to meet such changes. For example: Courts' decisions on Aggravated Damages, Vicarious Liability and Non-Delegable Duty.    
Important highlights of MEDEFEND's coverage: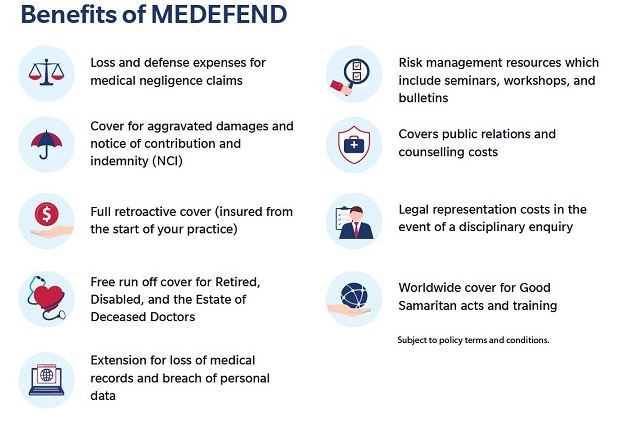 Who are the Insurers/Takaful Operator for MEDEFEND?
The Insurer for MEDEFEND is Pacific & Orient Insurance Co. Berhad (P&O).
The Takaful Operator for MEDEFEND Takaful is Etiqa General Takaful Berhad. To know more about the company, click here.
Marsh Specialty as the brokers for MEDEFEND is responsible for managing the Scheme which includes new applications and renewals, general inquiries, negotiating the terms and conditions of the policy,and most importantly the claims management.
Marsh Specialty, with vast experience in managing professional indemnity insurance schemes will strive to ensure that the members' interest will be its utmost priority under the Scheme. A dedicated Claims Team consisting of former practicing lawyers will ensure that medico-legal claims and notifications from members will be handled competently and professionally. It is the intention of Marsh to bring the members a fresh, value-added approach to insurance whilst maintaining competitive but stable premiums.
For more information on Marsh please click here.
More about Medical Protection

I am interested. How do I sign up?