MMA News
Notice of 63rd MMA AGM Application To Serve on MMA Committees & External Organisation 2023-2024
Events
MMA Congress, exclusive deal for doctors: MediSavers healthcare medical insurance, HELPDOC and etc.
Announcements
Survey On Bullying And Harassment By Schomos MMA, aftersales service to MMA members and etc.

Membership Application form to join Koperasi Persatuan Perubatan Malaysia Berhad.
The Koperasi Persatuan Perubatan Malaysia Berhad received its registration certificate in March 2017.
The membership is only for MMA Members in benefit only.
The objective  is to create an opportunity for members of MMA to participate in the business of healthcare .
We are looking into healthcare applications at the moment and the disruptive technologies .
We can't promise any returns at the moment.
The funds are deposited into the Koperasi Bank Account.
The maximum shared allowed per individual under the undang-undang kecil Koperasi is  RM10k per member. Please don't hesitate to contact 

[email protected]

 if you have further queries.
MMC-CPD Grading System Scoring Guide


Guidelines on Continuing Professional Development (CPD) for Medical Practitioners
MMA-CPD Application For Registration of Provider
MMA-CPD Attendance Returns From Provider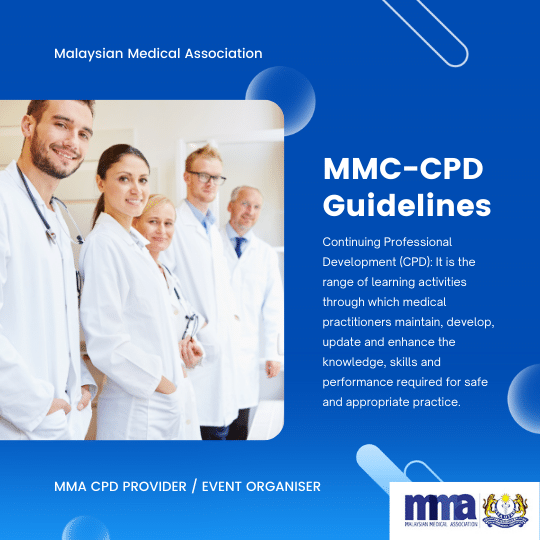 CHECK OUT OUR PHOTO GALLERY